Just noticed you can get Bootsy's Play-cation and Monster Mash singles on CD on Amazon. Interesting.
Damn, 16 tracks… love the titles! Can't wait for this.
By the way, I was never 100% clear on whether this was the album he did with Buckethead, or if that's a completely separate thing that is also coming out this year?
I believe it's two different albums. When he announced it back in June he said Stars out now, "Power of the One" Oct.23rd, Bucket/Bootsy Dec.21st.
Noticed that too. I suppose it's one track per CD that Amazon manufactures.
Any info on what the livestream is all about? Performance? Live interview w/ Bootsy? Camera trained on Bootsy sitting there listening to the album with the rest of us?
Still have no idea what the livestream is all about other than it's being "hosted by comedian Tommy Davidson". @silentboatman is the only one I know of he said he was planning on buying tickets so maybe he knows more about it.
https://youtu.be/kWcP5uIIZwQ
But in other news, the Boot man is releasing a single ft Snoop and Taz called "Jam On" this friday
Don't know anything about it… besides that it's at 2:30 AM local time

.
Thanks for the info on the new singel!
I like it! Together with the first single it gives a pretty good picture of what the album will sound like. Got that quality produced sound that reminds me of the last couple of albums.
But would also love to hear some type of lo-fi stuff. Maybe something like Boots just jammin with his bass…
Waited and waited and waited for it to show up on amazon.ca… never did. Finally I had to order from amazon.com and pay about $12 more than it would have cost me if .ca stocked it. Strange, this never happens. But it's Bootsy so it's ok I guess.
The same thing on amazon.co.uk, so I ordered it from .com as well.
I also noticed that it's now possible to order it from the thebootcave.
I pre-ordered the cd from Amazon and just got an update saying it would be arriving Nov 11… Uh last time I checked it releases friday so…? Looks like I'll be getting the new Bootsy album and the new ACDC album at about the same time lol
To be honest I am not that impressed with the first two songs off it. To glitzy, or schmaltzy for me. I find myself not going back to the recent Bootsy stuff. It hits fast and hard, but fades in the long haul. "Jam On" reminds me of Knee Deep.
I'd have to agree. Same thing with the new Parliament. There's obviously some exceptions where I can dig a couple of the really polished tracks but I'm always going back to their older stuff far more often. But with artists like Bootsy I'm always going to give their new stuff a listen. Power Of The One is decent tho IMO
The Parliament MFD and Funkadelic Gate gave me some pretty good mileage. I still play those pretty regularly. When Bootsy puts out a record I find myself really wearing the grooves out for about a week. Then the record mostly sits on the shelf. I have not cued up World Wide Funk nor The Funk Capitol in years. The stuff is good. Quality production and all. But once I'm done with it, I'm kind of done with it. Same when he would tour. I've seen the Bootsy show 3 times live. Once in 81, 93 and 2012. And I'm good. He jams no doubt. Now George I've seen over a hundred times and will gladly go back.
Uh yeah baba! Got some solid tracks on there. I think my favorite so far is Creepin'. I think the rock guitar sound works well with tha fonk. How bout y'all? What's your favorite track?
Some bangerz on it for sure. I'm gonna give it a deep dive soon.
Y'all really need to see the Birthday Release Party stuff. The mixes on the tracks is different on the videos. He did some videos for several tracks. When I go back to the CD, Bootsy's voice throughout and some of the guitar on Creepin' is considerably lower in the mix than it was at the Release Bash. And I can't tell if they are playing live on the video. It sounds like the CD mixes, I'd be interested in your opinion about it. I don't know how they did it but its's seamless. Bootsy camp needs to package this one up and make it available for purchase its a classic.
Interesting, I didn't end up buying a ticket because I had no idea what to expect but now I'm kinda wishing I would have…

Just received my cd copy of the album, and I gotta say I really like the disc artwork. The front cover art looks a little dark on the colors but not too bad.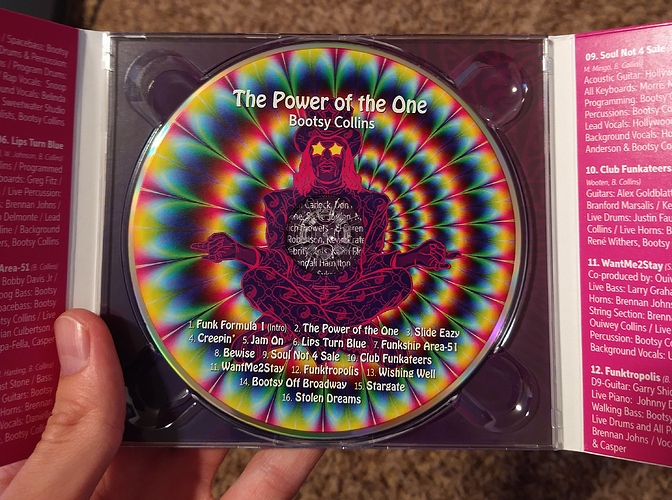 Yup. It's a classic. They really need to put it out there for all to see.