Continuing the discussion from Website: P-funk Portal (BEATLES STUFF):
Continuing the discussion from Neat PF podcast from UK w/ Tom Vickers & Lloyd Bradley:
I've stumbled over this book from Lloyd Bradley an as it seems there are talking about the beatles too…

: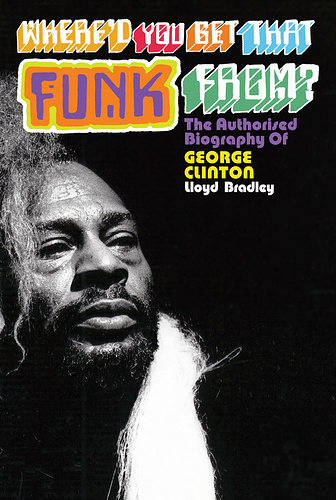 Lloyd Bradley is a classically trained chef and the author of This Is Reggae Music, the best-selling story of reggae and Jamaican culture. He toured the United States with Parliament and Funkadelic in 1979; is one of the vocalists on Bootsy's Sweat Band album (the first album on George Clinton's Uncle Jam Records); and still has the baby clothes sent to his son by George and his wife when they declared themselves surrogate godparents.
About The Book

The first in-depth biography of this hugely influential musician most famous for his creation of infectious funk

Where'd You Get That Funk From? goes beyond the wigs and the boots and through a series of in-depth interviews and sharp cultural analyses that put George Clinton in his proper context. That is, as a radical part of black America's turbulent 1960s; as being as musically representative of Detroit as Motown; as leading the first soul group to employ circus hands among their roadies; as being able to pull together music as diverse as that of Bach, the Beatles, James Brown, Frank Zappa, the Moonglows, and the Supremes to create P-Funk, which became a cornerstone of West Coast hip-hop.

Clinton's principal groups, Parliament and Funkadelic, were two of the most dynamic and successful American bands of the "70s, but their wild shows and badass party sounds represented just one facet of their remarkable leader's talent. Seminal songs such as "Atomic Dog," "Flashlight," "Up for the Down Stroke," "Give Up the Funk," and "Bop Gun" became the basis of countless hip-hop hits throughout the next two decades.

Lloyd Bradley's perceptive and fascinating portrait has been enhanced by his close relationship to Clinton, and the book is peppered with extensive interviews. The significance and singularity of this extraordinary man is superbly reflected in this definitive study.
https://groveatlantic.com/book/whered-you-get-that-funk-from/
The first comprehensive biography of the influential funk artist retraces Clinton's early career in the 1960s and reveals how the black power movement–as well as the Beatles, Frank Zappa, James Brown, and the Supremes–shaped his music.
https://www.amazon.de/Whered-You-Get-That-Funk/dp/1841955914
The amazon description goes a bit further or messed up the original description from groveatlantic… does somefunkateer own this book and knows if there are real talks about beatles…?