I'm sure we've all seen this at one time or another.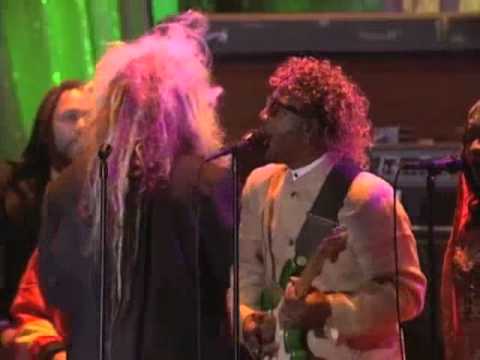 Is this perhaps the most recent, most complete iteration of the original P-funk to play live together?
Speaking specifically about the core 16 members who made it to the RNR HOF (and I've discussed that this group should include a small handful of others, but nevermind that for now…) I see:
George Clinton (obviously)
Bootsy Collins (obviously)
Bernie Worrell (they barely show him but he's there)
Michael Hampton (dreads, tuxedo, far left)
Jerome Brailey (that is him on the drums, right? I know he was there and introduced himself on the mic as the writer of One Nation. But the dude looks SO YOUNG on the drums, can that really be him?)
Grady Thomas (right next to GC)
Calvin Simon (white tuxedo next to Grady, right?)
Fuzzy Haskins (shorter guy next to Calvin)
Obviously not present are those who were already deceased by 2002:
Eddie Hazel
Glenn Goins
Tiki Fulwood
But, who was alive AND not there? I'm not certain that I see:
Garry Shider (he's surely not there in a diaper)
Junie Morrison
Billy Nelson
Cordell Mosson (unless he's the guy next to Hampton in the white hat?)
Ray Davis (no "tear the roof off the sucka" intro, so if he's there I can't pick him out… unless he's the one next to Fuzzy?)
In addition to that, there are plenty of people on that stage who are performing, yet are not there to be inducted. They include:
The three women
Black and white polka dot hat guy
white hat/mothership connection jersey guy next to Kidd
White coat/jheri curl guy
tuxedo guy to the left of Fuzzy (I do think it's Ray Davis, thought I saw a gap-toothed smile once, but leaving him in this category because I'm not 100% sure on this)
guy at 2:21 in black hat behind the parliaments with a mic and a keyboard in front of him
guy in black hat and dark sunglasses, w/beard to the right of bootsy, no instrument
background guitarist, can be seen behind jheri curl guy at 3:50
So I think there are 18 people on the stage, 8 of them I know who they are 100%, and ten I don't, but there are five who were alive and not accounted for, and I'm sure at least a few of them are actually there.
So who can identify the rest? I'm guessing these are pretty significant members who were part of the group for long enough periods to merit being on this stage at this moment and not just "this guy who played rhythm guitar on the 2002 p-funk tour".