In Roctober #11 interview with Pedro Bell, he talks about work on the album cover of By Way of the Drum. (Arthur Magazine transcription from 2004)
PB: Well, masks-masks… it's funny you should mention masks, because the last Funkadelic album, called "By Way Of The Drum", I designed a mask for that, it's a combination of low tech and high tech. It's never been released. "By Way Of The Drum" was actually the world's oldest unpublished Funkadelic album. I started in 1982, I finished in 1989, it hasn't been released yet.
RL: There was a promotional 12" that had the song "By Way of the Drum" released about 1989 or 90.
PB: yeah, but it was released without their permission. It was a standard (no art) sleeve.
Interestingly, there is a very low quality, black-and-white version of the album cover in the margins. It looks more interesting and on-brand than the 2007 album cover. Too bad it's not in color. Has anyone ever seen a color version? I tried asking the Roctober editor, but didn't get a response back.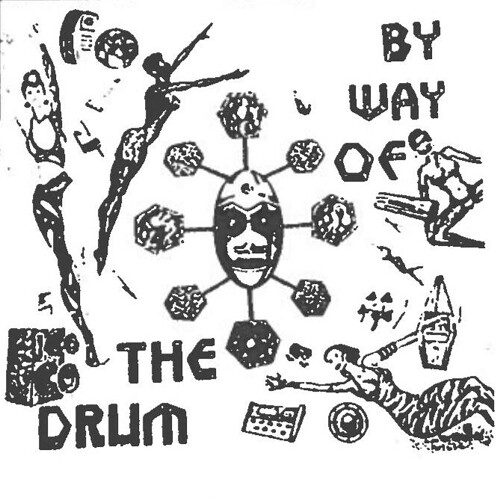 Pedro also mentioned the album cover in an 1989 Motorbooty magazine interview posted on this site.
As a matter of fact, this Funkadelic album is the first one that's not a gatefold. That seriously cramps my style. But one thing I can say about the back cover of the Funkadelic album is that you'll need a magnifying glass!